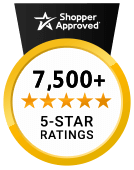 See What Others Are Saying About Us
We have partnered with Shopper Approved! This integration will allow you to see what other customers have to say about us. We accept both good and bad reviews and we never remove them unless the customer who posted the feedback contacts us to remove it.
Read what other customers like yourself have to say about the services, and the staff, as well as their experiences with United Salon Supplies!