PRODUCT AUTHENTICITY
It is always our highest priority at United Salon Supplies to provide maximum satisfaction for customers who choose to buy genuine products. We work directly with manufacturers and reputable distributors to ensure that we only sell authentic and brand new merchandise.
United Salon Supplies goes to great lengths to ensure that our items are 100% Genuine and Authentic. All the merchandise that arrive in our warehouse and fulfillment centers are carefully inspected and we stand behind every sale with our 30-Day Return Policy.
If you have concerns about the authenticity of an item you have received from us, please call us at (702) 372-5554 or email us right away!
---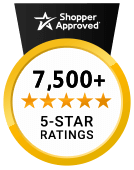 See What Others Are Saying About Us
We have partnered with ShopperApproved.com! This integration will allow you to see what other customers have to say about us. We accept both good and bad reviews and we never remove reviews unless the customer who posted the feedback contacts us to delete it.
Read what other customers like yourself have to say about the services, and the staff, as well as their experiences with UnitedSalonSupplies.com!