ADVERTISING POLICY
United Salon Supplies is committed to accurate pricing and listing. We reserve the right to correct typographical, illustration or listing errors. Reference of savings or sale prices are comparisons to United Salon Supplies regular prices. We reserve the right to limit quantities to normal retail purchases. Prices are subject to change without notice.
PRICE MATCH POLICY
At the time of purchase, we will match the current pre-tax price including shipping and handling for new and immediately available products from a local retail competitor's store or shipped from and sold by designated major online retailers: Ulta.com, Allure.com, Target.com, and Walmart.com. We do not match any auction sites such as eBay, Amazon, Rakuten and etc.
*United Salon Supplies may amend these terms at any time.
---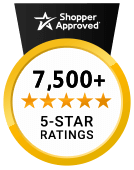 See What Others Are Saying About Us
We have partnered with Shopper Approved! This integration will allow you to see what other customers have to say about us. We accept both good and bad reviews and we never remove them unless the customer who posted the feedback contacts us to remove it.
Read what other customers like yourself have to say about the services, and the staff, as well as their experiences with United Salon Supplies!