COMPANY
United Salon Supplies offers the finest and widest variety of beauty and hair care products, professional appliances, salon furniture and equipment to salons, hairdressers and beauty enthusiasts around the world. Our goal is straight forward, to find the highest quality salon supplies and offer them at the best price in the fastest delivery time. Whether you are doing professional salon service, haircuts, hair colors, treatments, nail polish, or in-home beauty remedies, our great selection of brand name products and knowledgeable associates will ensure success with all your beauty ventures.
At United Salon Supplies we take great pride in the products that we offer. In fact, we go so far with these products that we will test them on ourselves. We give our products to our own team members and ask them to try them out and then seek out for their feedback. And we do this because, ultimately, we want to offer only the best products to our customers.
Our exceptional customer service and sales team are key to our success. We employ the most devoted and highly experienced team members and give them all the product knowledge that they need, to make them the best that they can be in attending to our customers. These individuals are focused on exceeding expectations of customers who want the exact component at the best price in the fastest time. Our goal is to provide the best beauty and shopping experience for every customer.
---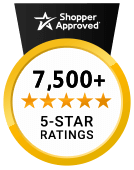 See What Others Are Saying About Us
We have partnered with Shopper Approved! This integration will allow you to see what other customers have to say about us. We accept both good and bad reviews and we never remove them unless the customer who posted the feedback contacts us to remove it.
Read what other customers like yourself have to say about the services, and the staff, as well as their experiences with United Salon Supplies!
---
TOP-RATED BRANDS
United Salon Supplies offers only the best brands and products for our customers. We offer the latest products from top-rated brands like Aveda, Agave Oil, BabyLiss Pro, GHD Heat, L'oreal Paris Professional, Kardashian Beauty, Morroccanoil, Parlux, Schwarzkopf, Wahl, Wella Professionals and more! The widest variety of the most exceptional brands all chosen by our devoted staff members who want you to enjoy the best beauty and shopping experience. Discover amazing brands and products every time you visit.